Plans for the first 2021 WYC Cruise to Muskegon had to be modified due to the latest bout of inclement weather. Winds that swung around to the north on Wednesday, May 26, have not relented. At first the Cruise Committee targeted New Buffalo as an alternate destination, but the strength of the wind and wave conditions scrapped that idea too. The goal of the Cruise Committee is to have fun cruising. It's one thing to get hit with bad wind and waves when you are already out in the lake, it's another thing to run out willingly into it. So, the best option for this weekend is Montrose Harbor in Chicago.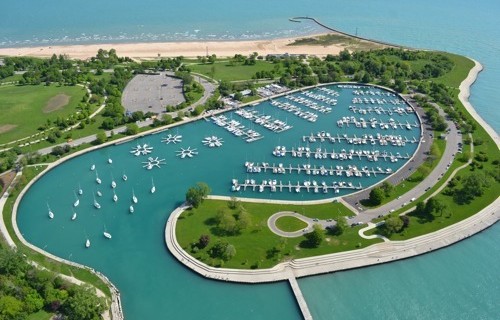 The winds and waves are suppose to ease by noon Saturday. Boats are planning to leave Waukegan before that time. Winds are predicted to be around 20 knots. That seems like a lot except that the course to Montrose is due south, with the winds. WYC raced up to Racine last year in stronger winds and everyone had a great time. 
Cruisers have already made reservations for the harbor using the service Dockwa. Rates are charged at $2.25 a foot. You can also obtain electrical connections and water. Toilet and showers are included in the price. The facilities in Montrose modern and up-to-date. Dining is available at Chicago Corinthian Yacht Club (CCYC) and nearby in the Uptown, Lake View and Edgewater neighborhoods of Chicago. 
Come join the fun! Cruise with WYC!